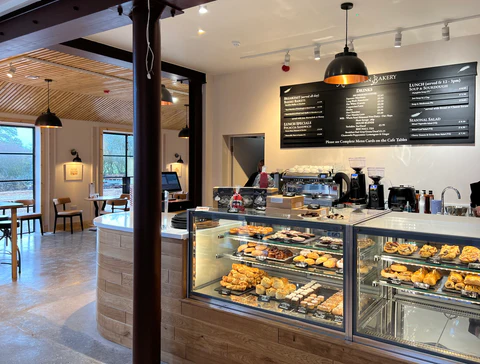 Hambleton Bakery opens café
Our previous guests will be aware of Hambleton Bakery, once awarded Britain's Best Bakery, with shops in Oakham, Stamford and Exton.
Hambleton Bakery have now opened a café at their Bakery in Exton! The menu focuses on their signature products  – freshly made soup with their famous Sourdough, salads, filled Focaccias and of course a fantastic selection of pastries.
The café is currently open 7 days a week, Monday – Saturday from 8am – 5pm (last orders 4.30pm) & Sunday 8am – 4pm (last orders 3.30pm) Serving hot lunches from 12 noon – 3pm. You may wish to check these hours haven't changed before visiting.
As many of our guests at Puddle Cottage do visit with their 4 legged friends, it is great to know that the new café at Hambleton Bakery is dog friendly and they welcome well behaved hounds of any variety!
There are some lovely dogs walks nearby too , so you may be able to combine a lovely dog walk with a well earned tea and cake afterwards!
If you are planning a visit to Rutland then why not consider a stay at either Puddle or Snowdrop Cottage? Puddle Cottage and Snowdrop Cottage are situated in Edith Weston and are within walking distance of Rutland Water. The cottages, which are located next to each other, have recently been inspected and awarded a 4-star status by Visit England, as well as holding a ROSE award (Recognition of Service Excellence). Both cottages have one large bedroom which can be presented as two full size single beds or one super king size bed. Although the cottages are self catering cottages, they are stocked with kitchen essentials and all bed linen and towels are provided. The cottages have been refurbished so as well as maintaining the charm of an old cottage with its exposed beams, stone and the open fire, it also has all the modern facilities you would expect such as a Smart TV, central heating and new appliances such as a washing machine and dishwasher. Due to the enclosed garden, we can warmly welcome up to 2 dogs at Puddle Cottage.
The village of Edith Weston is a great location to stay as it is walking distance to the South shore of Rutland Water as well as having a local shop and pub serving food so you won't have to travel too far! If you do want to explore the local area, the cottages are also within 8 miles of the market towns of Oakham Uppingham and Stamford and about a 10 minute drive to Exton, the home of Hambleton Bakery.
The availability and tariffs can be found on our website here.
For more information, please contact Anna on 07734175291 or e/mail enquiries@puddle-cottage.co.uk.
We would be delighted to welcome you.