RUTLAND & SURROUNDING AREA
Edith Weston is a small friendly village, on the south shore of Rutland Water. There is a village shop which is open all year round selling all the basics, including local produce and daily papers. The village Public House, the Wheatsheaf, serves food at lunchtimes and in the evenings and has an outside dining area where dogs are welcomed. Edith Weston is also the site of Rutland Water Sailing Club, and also a short walk to Rutland Water Fishing Lodge and the Cycle Hire Centre at Normanton. For more information about Edith Weston, please visit the village website on www.edithweston.com
---

Rutland Water is only minutes walk from the cottage and the cycle/walking path around its perimeter passes through Edith Weston. The site spans over 3,000 acres there are 4 landscaped parks around its shores where you can enjoy a walk, play and picnic or buy an ice cream or bite to eat from one of the cafes http://www.anglianwater.co.uk/leisure/what-to-see/water-parks/rutland.aspx. There is a cycle path around Rutland Water which totals 27 miles, or 16 miles excluding Hambleton peninsular with ice cream and coffee stops en route!  Rutland Cycling had cycle hire centers at both Whitwell and Normanton. Why not hire a tandem bike and cycle around the water?!
As the largest man made reservoir in Europe, covering 3,100 acres and totaling 5 miles in length, Rutland Water naturally attracts and welcomes sailors and windsurfers from beginner to International standards. Puddle cottage is only a few minutes walk to Rutland Sailing Club where sailing boats and tuition are available www.rutlandsailingschool.com. There is also a watersports centre at Whitwell where you can also hire sailing boats, as well as windsurfs, canoes and kayaks and also offers tuition.
Puddle Cottage is also walking distance to Rutland Fishing Lodge, and fly-fishing up to international level is common place on the reservoir. Boats and equipment can be hired at the fishing lodge, and lessons are available www.rutlandwaterflyfishing.co.uk
---

Boat trips are available on the water courtesy of the Rutland Belle. It is possible to board the boat at Normanton Church, within walking distance of the cottage.  Boats run daily from May until September, with a limited service in April and October. www.rutlandwatercruises.com.  Recently the nature reserve, in conjunction with the Rutland Belle have introduced visitors a chance to take guided trips to areas of the reservoir where you are most likely to see Ospreys. The Osprey and Wildlife boat tours sail for a sunrise trip at 6am and later again at 5:15pm on selected dates. For more details please visit www.ospreys.org.uk/lyndon-reserve/cruises
Rutland Water is also renown for its nature reserves. Rutland Water is a designated site of Special Scientific Interest as well as a designated European Special Protection Area and RAMSAR site. There are bird watching reserves at Lyndon and Egleton, which are only a few miles away from Puddle Cottage. There is a large visitor center at Egleton from which you are hire binoculars, and view the remote controlled TV cameras which spy on nesting birds on remote islands on the reservoir. The nature reserve also offers countryside courses and wildlife events www.rutlandwater.org.uk The nature reserve at Egleton also hosts the International Bird Fair every August.
Within 8 miles of Puddle Cottage also lie the market towns of Oakham, Stamford and Uppingham all of which have numerous boutique shops selling homewares, gifts, clothes and of course local produce. All three market towns host market days each week. Market days are Fridays in Stamford and Uppingham, and both Wednesday and Saturdays in Oakham. Stamford is the largest of the local towns and is renowned for its Georgian buildings which have been the location for several period dramas ( such as George Eliot's Middlemarch and Pride and Prejudice).
---
Attractions

Other attractions within a short drive to the cottage include Burghley House. Burghley is regarded as the largest and grandest house of the first Elizabethan age.  It was built between 1555 and 1587 and the main part of the House has 35 major rooms. The House is open from Saturday 17th March to Sunday 28th October 2012 daily (except Fridays) from 11am to 4.30pm.  You can visit the house itself as well as the gardens and restaurant. Burghley is also the home to one of the most exciting events in the equestrian calendar; the annual Burghley Horse Trials where international riders compete for over a 3 day event www.burghley.co.uk
---

Barnsdale Gardens are only 6 miles away from Puddle Cottage, on the North side of the reservoir.  The gardens were created by Geoff Hamilton for BBC Gardeners' World, and are now Britain's largest collection of individually designed gardens with 38 now on show over the 8 acre site. There is also a nursery selling unusual plants and tearooms serving seasonal snacks and light meals, using local produce wherever possible www.barnsdalegardens.co.uk
---

Belvoir Castle has been the ancestral home of the Duke and Duchess of Rutland for one thousand years and is believed to date back to Norman times. The castle and gardens are opened periodically between May and August, mainly on Sunday and Mondays www.belvoircastle.com
---

Tolethorpe Hall dates back nearly 800 years and is best know now for the annual season of plays held throughout June, July and August by The Stamford Shakespeare Company in Rutland Open Air Theatre which is in the grounds of Tolethorpe Hall. You can picnic in the grounds prior to the performance before taking your seats (which are protected by the elements!) and watch the drama unfold in the natural surroundings. The 2012 season includes Twelfth Night, Henry IV Part One, and the Three Musketeers. www.stamfordshakespeare.co.uk
---

Rockingham Castle is situated on a spectacular hilltop site in the attractive village of Rockingham. The Castle and Grounds are open periodically from April until September. The castle gardens also host numerous events throughout the year such as jousting and a popular Christmas shopping event, which takes place in November.
For more information in activities and events in Rutland, the Discover Rutland website may also be of use: www.discover-rutland.co.uk
---
Pubs and Restaurants
There are numerous country pubs and restaurants in Rutland and the surrounding areas. A few worthy of note include:

The Wheatsheaf – the local pub of Edith Weston, and just a short distance walk from Puddle Cottage. Serves basic English food at lunchtime and the evenings , with an outside patio area. Dogs are  welcome in the bar area and outside patio. www.everards.co.uk/pubs/wheatsheaf_145
---
Horse and Jockey, Manton. Only a few miles away from Puddle Cottage is an privately owned traditional pub which is popular as it is on the cycle/ walking path around Rutland Water.  There are log fires and exposed beams for a cosy atmosphere in the winter, and a sunny patio area when the weather allows. Food is served both at lunchtime and in the evenings, and they occasionally have live music. www.horseandjockeyrutland.co.uk
---

The George at Stamford – a coaching house in the centre of Stamford, dating back to the 16th Century. There are 2 restaurants – The Oak Pannelled restaurant which offers a more formal dining experience and the Garden Room which is more relaxed and informal www.georgehotelofstamford.com
---
Hitchen's Barn, Oakham – an award winning restaurant in Oakham. Booking essential www.hitchensbarn.co.uk
---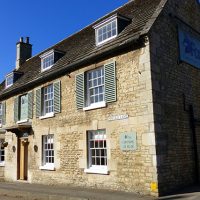 The Fox, North Luffenham – only a short drive (also withing walking distance of Puddle Cottage), has become a  favourite. The Fox is also dog friendly – dogs are allowed in the bar and garden at all times.
---

The Grainstore Brewery, Oakham.  A pub and brewery situated by Oakham train station, serving a wide range of ales brewed on site. They often have live music, and serve food using fresh, locally produced and sourced ingredients. Tours of the brewery can be arranged in advance. The Grainstore also host the annual beer festival over the August bank holiday with over 70 real ales on offer with live music and a BBQ every day and entry is free.   The Grainstore is also a dog friendly pub that also keeps dog biscuits behind the bar! www.grainstorebrewery.com
---

The Olive Branch, Clipsham is best known for holding a Michelin Star for a pub since 2002 and attracts diners from far afield. The Olive Branch is a traditional pub which serves a selection of pub classics alongside a range of more 'restaurant style' dishes. They serve local and season produce and the menu changes frequently as a result. It is worth looking out for special event evenings which run throughout the year.  www.theolivebranchpub.com
---

The Kings Arms, Wing. A traditional 17th Century pub with all the hallmarks of a traditional Shires inn such as its stone floors, thick walls, low beams and roaring fires. The pub prides itself on using local, seasonal ingredients wherever possible from within a 20 mile radius of the kitchen. www.thekingsarms-wing.co.uk
---

Hambleton Hall. Situated on Hambleton peninsula with amazing views across Rutland Water, Hambleton Hall is one of the finest Relais and Chateaux country house hotels in the country. The restaurant is award winning, ran by Michelin starred Aaron Patterson. If you want to try the Hambleton Hall experience, it is worth trying the 'Lunch for Less' menu which is available Monday – Saturday (excluding bank holidays) where you can enjoy any two courses for £22.50 www.hambletonhall.com
---

The Plough, Greetham. CAMRA Rutland pub of the year.  They offer a lunch and evening menu, including baguettes by the length at lunchtime (up to 2 foot!), alongside side an extensive menu of mains using local produce. Be sure not to miss Pie Night every Sunday and Monday.  The Plough is also dog friendly – dogs are allowed in the bar and garden at all times, although not in the restaurant. Their full menu is available in the bar and outside so you won't miss out. www.greethamplough.co.uk
---
Local Food
There are also plenty of places selling local produce:

If you would like to sample some of the local produce, a trip to Ye Olde Pork Pie Shoppe and Sausage Shop in Melton Mowbray is a must, where Dickinson & Morris has been baking pork pies since 1851. www.porkpie.co.uk
---

Hambleton Bakery – the bakery has quickly grown a fantastic reputation in Rutland for baking quality, traditional bread and has now extended its range to include a range of cakes and deserts. There are shops in Oakham and Stamford, and the bakery and shop is located in Exton. www.hambletonbakery.co.uk
---

Hambletons is located at Gates Garden Centre.  Hambletons graze beef and lamb on the shores of Rutland Water. They also buy meat from some of the best local growers. They also sell a variety of other produce, such as cheese, cooked meats and pies, ready meals and a fantastic variety of quality store cupboard ingredients. www.hambletonfarms.co.uk