Roadworks in Rutland
We have been informed of roadworks in Rutland which may affect your journey to Puddle Cottage.
The road closure information which have been issued are as follows:
Part of the A6003 near the village of Manton is to close from 12 April 2021 until 5 July 2021, due to extensive bridge repair work.

This closure is needed to allow Network Rail to carry out demolition and rebuilding works on the railway bridge just north of Manton Top. 

The work must be carried out under a full road closure, affecting the section of the A6003 that runs between Manton and Egleton.  

A diversion will be in place and clearly signposted while works are ongoing.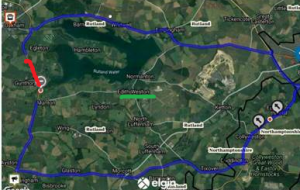 The map above shows where the A6003 will be closed – between Manton and Egleton. If you are travelling from the Oakham direction, you will need to travel clockwise around Rutland Water via Barnsdale, Whitwell and Empingham to reach Edith Weston (highlighted in green on the map).  This should only take you a few minutes more than the normal route.  Please don't follow the official diversion which will take you all the way to the A1 and add a lot of time to your journey!
If you are planning on visiting Oakham (or onwards to Melton Mowbray) during your stay, similarly you will need to travel anticlockwise around Rutland Water due to the road closure. This also applies for visits to Egleton Nature Reserve.
If you have a Sat Nav or similar, we are sure it will provide the shortest alternative route.
As always, if you have any queries before or during your stay please feel free to ask. Hopefully we will know more too when the roadworks start and the diversion signs are in place.