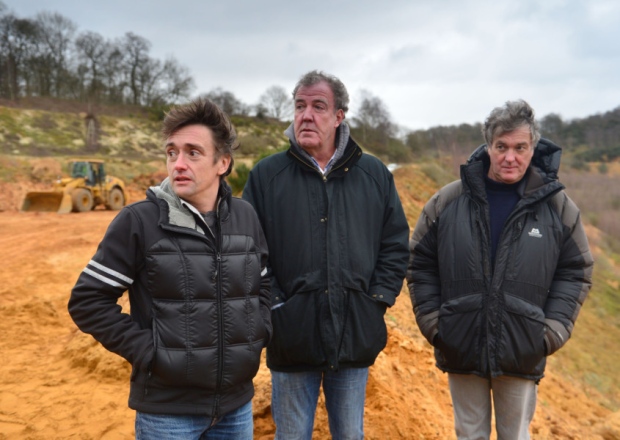 Rutland featured in Clarkson's last Top Gear
Richard Hammond, Jeremy Clarkson, James May – (C) BBC Worldwide Ltd – Photographer: Ellis O'Brien EMN-150629-120712001
Millions of people tuned in to watch Jeremy Clarkson's final Top Gear episode last night (Sunday) which featured filming at Rutland Water.

Watched by an average of 5.3 million viewers, the 75-minute special, aired on BBC Two on Sunday evening compiled footage shot in Rutland before Clarkson was sacked.

Joined by his co-hosts, Richard Hammond and James May, the famous trio visited Rutland Water as part of a journey across Britain in three classic cars. Amongst the millions who took to Twitter to express their love for the final episode, included many of Rutland's residents who were delighted to see the Rutland countryside featured in the final episode. Those who tweeted included Giant Rutland who are based at Rutland Water and were featured in last night's show.

Ben Fennell, Assistant Manger at Rutland Cycling said: "It was awesome seeing Rutland Water on the show – it couldn't get much better that it was featured in the last episode.

"It's good for the county and I heard they had a good laugh when they were here."

The broadcast came as a shock to those who had been involved in the filming, as it has been over nine months since the footage was first filmed in Rutland.

Top Gear will now return with new host Chris Evans who is looking for new co-hosts and has called on Top Gear fans to send in short audition clips for a job on the new show.
This article has been from the Rutland and Stamford Mercury http://www.stamfordmercury.co.uk/news/local/last-episode-of-top-gear-filmed-in-rutland-1-6822839
If you would like to visit Rutland Water, why not consider a stay at Puddle Cottage? Puddle Cottage is a one bedroomed, self catering cottage on the South shore of Rutland Water, just a short walk to the reservoir. The cottage sleeps 2 comfortably and dogs are warmly welcomed.