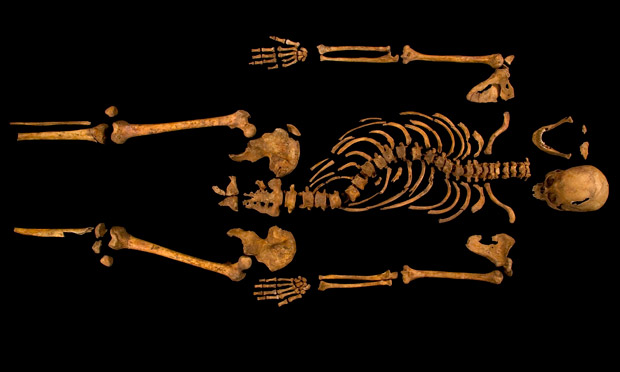 Is Leicestershire the new tourist hotspot?
After the skeleton of Richard III was found in a car park near Leicester Catherdral, this article on the Guardian website last week suggests that Leicester is the new tourist hotspot. So if you are planning a visit to the area, you might want to take in some of these sites…
Is Richard III's Leicester the next tourist hotspot?
Apart from Greyfriars car park, final resting place of the last Plantagenet king of England, where else might holidaymakers visit in this East Midlands city?

It's not a winter of discontent for Leicester now. With Greyfriars car park revealed as the final resting place of the last Plantagenet king of England, the East Midlands city is suddenly a must-visit destination.

Apart from the mysterious chill of the council-run car park (set your satnav for: LE1 5PH), what pleasures can intrepid holidaymakers seek out in the 10th-largest city in the UK?

A hunchback

The city has certainly got itself in good shape to seize every single Richard III PR opportunity. The city's Guildhall hosts a special exhibition about Richard, which opens on 8 February. There is also a 45-minute walking tour, and even a Richard III minibreak. King Richard III short breaks were launched today, featuring entry to two new exhibitions, guided walks, afternoon tea and hotel b&b for £79 for couples and £99 for families. Plus not forgetting a Facebook page, of course. Is the old boy tweeting yet? Get that account set up Leicester!

A field

The exact location of the defining battle of the Wars of the Roses is a little imprecise but the Bosworth Battlefield Heritage Centre was built in 1974 on a site 13 miles west of Leicester. Here, you can find a new exhibition on Richard III and children can dress up and re-enact Richard III's fatal final charge on Henry Tudor – or, at least, Tudor propagandist Shakespeare's version – by crying out: "A horse, a horse, my kingdom for a horse."

An old wall

Leicester is one of the oldest cities in the country, but lost its city status for the best part of 800 years, only regaining it in 1919. Its first recorded name was as the Roman town, Ratae Corieltauvorum, and remains of the Roman baths can still be seen at the Jewry Wall, an impressive, 2.5m-thick piece of Roman walling.

Laughs

Dave's Leicester comedy festival, which claims to be the longest-running comedy festival in Europe, celebrates its 20th birthday this month. Sadly, Dave refers to the TV channel – the bloke who runs the festival is actually called Geoff. And Tony (Slattery) and Sue (Townsend) are patrons. Comedians love Leicester. "Leicester is the finest place on earth after Balham," declares Arthur Smith.

Curry

As you would expect from a city where the population is 28% Asian or British Asian Indians (the highest proportion in England and Wales), the food is better than average. Leicester is famed for its "Curry Mile" along Melton and Belgrave Roads, with the latter also nicknamed the "Golden Mile" for its jewellery and sari shops. One online dissenter argues there is little diversity on the Curry Mile and prefers the boutique shopping of St Martin's Square and the Stoneygate Shops.

Pork pies and stilton

Lovers of traditional British fare can still find rich pickings in Leicester: pork pies from nearby Melton Mowbray and stilton cheese both have EU protected status. Leicester hosts the East Midlands food festival every October. "We're very proud of our food and drink heritage," says Simon Gribbon of Leicester Shire Promotions.

Infinity and beyond

Handily placed midway between Leicester's inner and outer ring roads (every proper city needs two) is the National Space Centre, Britain's largest attraction dedicated to space. Don't let the fact that the website is still boasting that "the Olympic torch visited us" put you off. Leicester has long been a hub for space research and the centre is offering a science-fiction special this half-term, a Robin Ince comedy evening and a "Cosmic Valentine" special coming up. Shame they can't teleport visitors back to 1485, yet but I'm sure they are working on it.
If you are planning a visit to the area, why not stay near Rutland Water at Puddle Cottage? The 4 star cottage comfortably sleeps 2 people in 1 double room and has been recently renovated. Features include a TV with Freeview and DVD player, a dishwaster, tumble dryer and WIFI which is free for our guests to use. The cottage is located in the charming village of Edith Weston and is just a short walk to the the South shore of Rutland Water. The market towns of Oakham, Uppingham and Stamford are all within 8 miles of the cottage and a trip to Leicester is just half and hour's drive away.  For more details please visit the main pages of our website. We would be delighted to welcome you to the area.