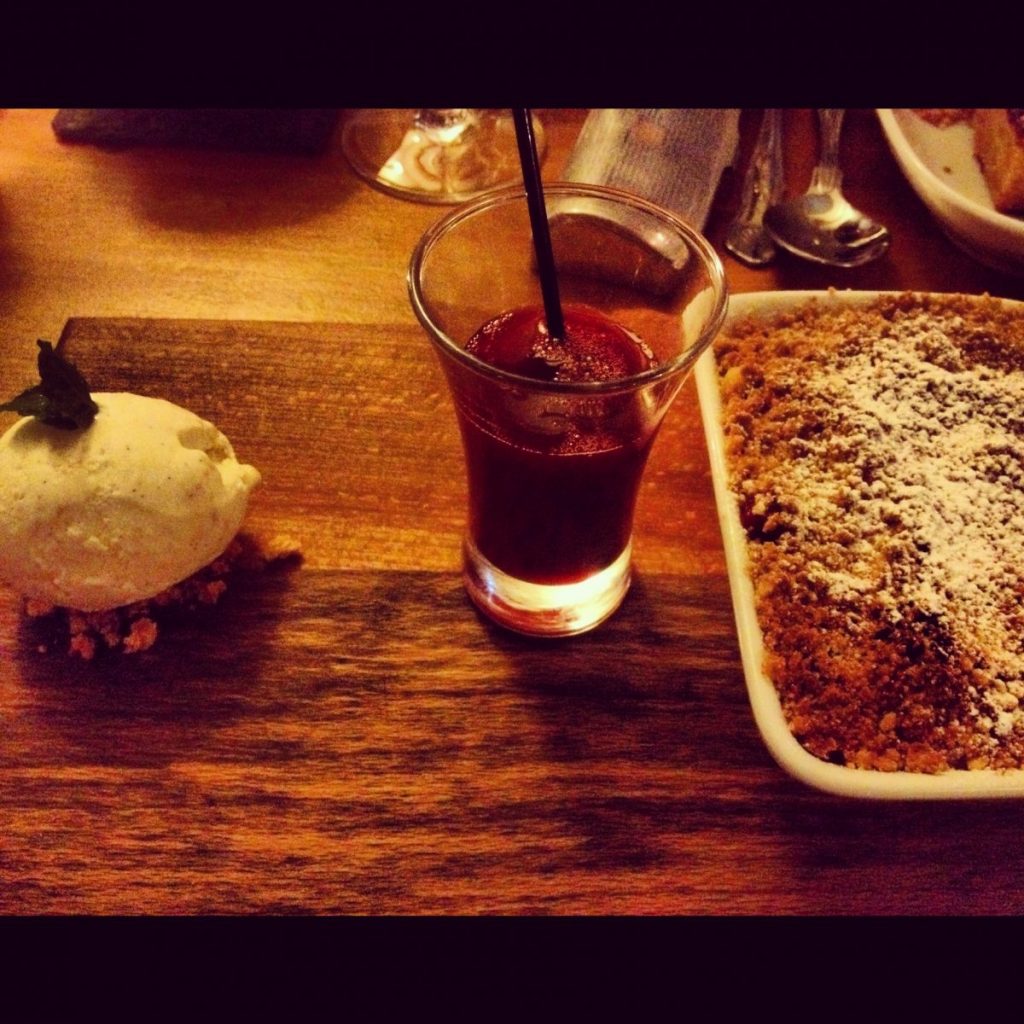 'An exemplary pub' says the Independent. And we agree.
Dinner at the Berkeley Arms, Wymondham was simply superb.
I've just stumbled on some photos from several weeks ago which reminded me about a fantastic meal I enjoyed several weeks ago. The family ventured to the Berkeley Arms in Wymondham at the end of July and enjoyed a fantastic evening – the food and service was just superb.
The menu consists of bar meals as well as the a la carte menu and we enjoyed a variety of dishes from bowls of  cockles to twice baked cheese souffle. The picture on my blog is of my desert – a cherry crumble which was beautifully presented and included a delightful shot of cherry juice with a straw and home made ice-cream. The menu changes daily, using seasonal produce  (including those grown locally by villagers in Wymondham). I loved my elderflower cordial made from elderflowers picked from their gardens – I don't think you can get more local than that! I've left a copy menu in the cottage to give a better indication of the dishes available.
As well as gaining a fantastic local reputation, the pub was listed with the Independent in their list of the 50 best pubs in the country (http://www.independent.co.uk/extras/indybest/food-drink/the-50-best-country-pubs-7758046.html). This listing says:
"An exemplary pub," says David. The Berkeley Arms is a wonderfully intimate place to drink and eat. Owners Louise and Neil met at Hambleton Hall so the food is special and the suppliers are lovingly listed."
The Berkeley Arms is closed on Mondays, and will also close for their autumn break from 29th October until 9th November 2012. Advanced booking is recommended (and judging by the reputation they are getting, is going to be essential) on 01572 787587.
Wymondham is about 20 minutes drive from Puddle Cottage –  The Berkeley Arms, 59 Main Street, Wymondham, LE14 2AG. Telephone 01572 787587.http://www.theberkeleyarms.co.uk
Puddle Cottage is located in Edith Weston, a charming village on the South shore of Rutland Water with a village shop and pub. Puddle Cottage is just a short walk of the shores of Rutland Water, as well as being walking distance to both Rutland Water Sailing Club and Rutland Fishing Lodge. The cottage has been recently refurbished and awarded its 4 star status from the Quality in Tourism Board for self catering accommodation.  The cottage has 1 bedroom and also allows well behaved dogs. The cottage is within 8 miles of Oakham, Stamford and Uppingham so is well placed for exploring all that Rutland has to offer. For more details please contact Anna on 07734175291 or e/mail enquiries@puddle-cottage.co.uk.