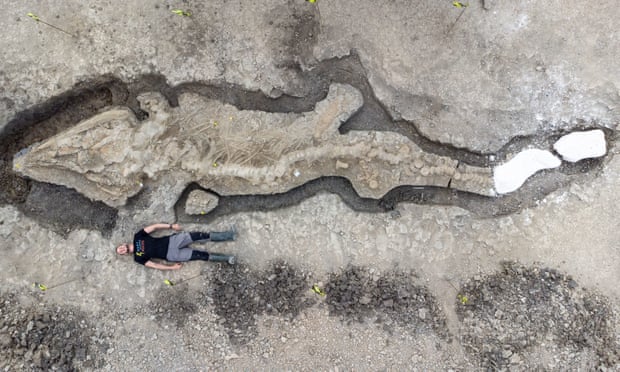 Ichthyosaur: Huge fossilised 'sea dragon' found at Rutland Water
The fossil of an enormous 10 meter long sea dragon has been unearthed on the banks of Rutland Water.
It has been described as one of the greatest finds in the history of British palaeontology.
The ichthyosaur is about 180 million years old and measures about 10 metres in length and weighs about a tonne. The fossil was discovered during routine work at Rutland Water Nature Reserve in February last year. The excavation of the remains will feature on BBC Two's Digging For Britain tonight, Tuesday 10th January 2022 at 8pm.
Anglian Water (who manage Rutland Water) are looking for funding to enable the ichthyosaur to stay in the Rutland area so it can be enjoyed by the general public.
This is another amazing discovery for Rutland. Recently it was announced that a Roman mosaic had been discovered in a Rutland field close to Puddle Cottage!
If you are planning to visit Rutland Water why not stay at Puddle Cottage? We have some availability over the coming weeks, and are busy taking bookings for the rest of 2022.
The cottage is a 4 star self catering cottage located in the charming village of Edith Weston and is just a short walk to the South shore of Rutland Water.  The historic market towns of Oakham, Stamford and Uppingham are all within 8 miles of the cottage, and Rutland Water Nature Reserve is nearby!
To book please contact Anna on enquiries@puddle-cottage.co.uk or call 07734175291. We would be delighted to welcome you to the area.