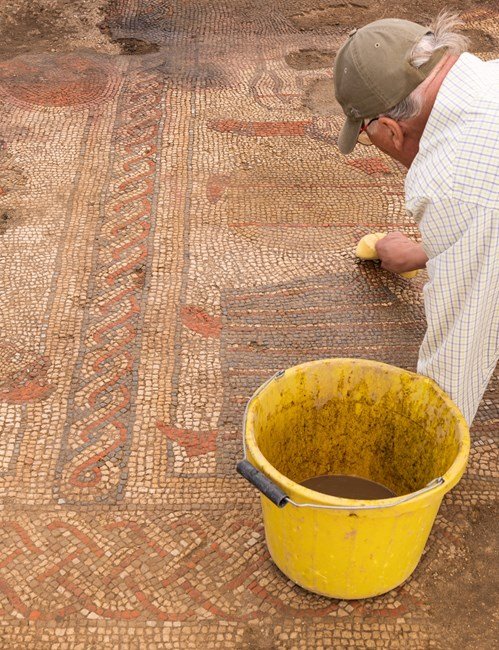 'Remarkable' Roman Mosaic found near to Puddle Cottage!
You may have seen Rutland in the news today, as it was announced that a Roman mosaic has been found in a Rutland field.
Historic England described the mosaic as "one of the most remarkable and significant… ever found in Britain".
The mosaic was discovered by the farmer's son during lockdown. It has now been protected as a 'Scheduled Monument' by the Department for Digital, Culture, Media and Sport on the advice of Historic England
The exact location hasn't been revealed but the footage show on the news today puts it close to Puddle Cottage. For the time being, the mosaic has been covered up for safety but we hope that the site will be opened up in due course. The site is very large and it is expected (hoped!) that more discoveries will be made ongoing.
If you are planning to visit Rutland  why not stay at Puddle Cottage? We have some availability over the coming weeks, and are busy taking bookings for 2022.
The cottage is a 4 star self catering cottage located in the charming village of Edith Weston and is just a short walk to the South shore of Rutland Water. The historic market towns of Oakham, Stamford and Uppingham are all within 8 miles of the cottage.
To book please contact Anna on enquiries@puddle-cottage.co.uk or call 07734175291. We would be delighted to welcome you to the area.
(The image shown is a member of the team from ULAS/University of Leicester during the excavations of a mosaic pavement © Historic England Archive. DP264272)