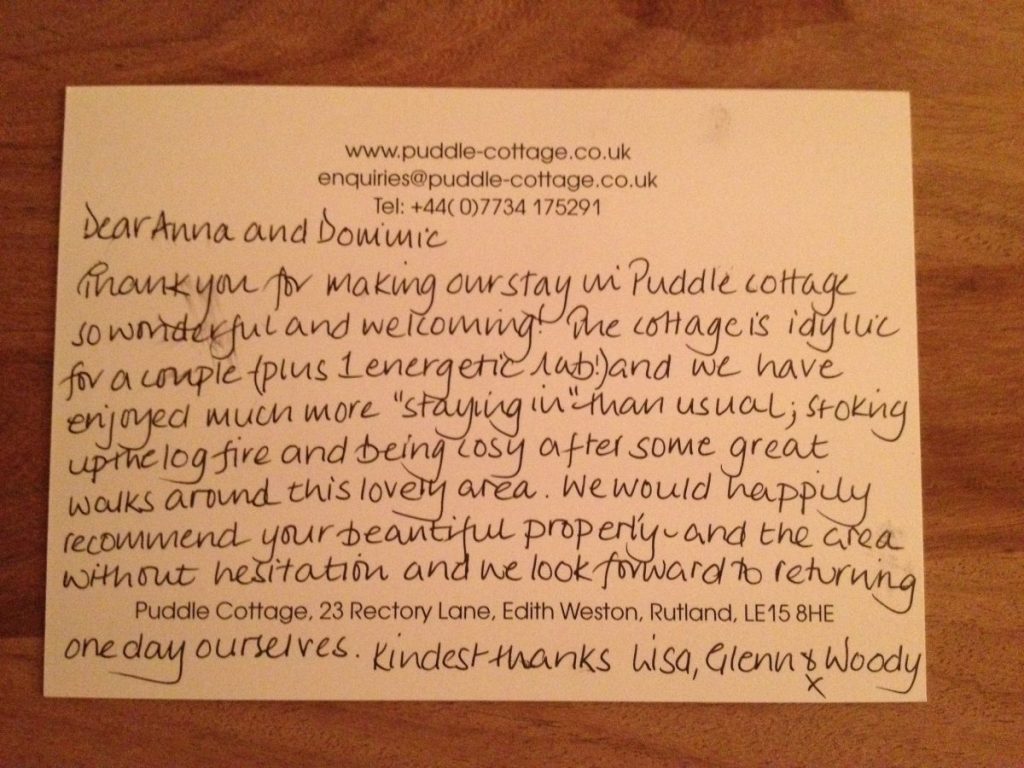 Guest Feedback October 2017
Here is the guest feedback for October 2017:
'Really nice. Good location. Well appointed with everything you need. Rear garden secure for dogs. Would highly recommend'
Tony and Pat, Candy and Willow
'Relaxing place to stay. Home from home. Everything we needed'
Anne, Ian and Roxy
'Quiet, pleasant, attractive and friendly village. Well appointed cosy cottage. Ideal for two. Thank you for an enjoyable stay'
Mike & Sally
'Loved the cottage and especially the open fire. Very cosy. The cottage is very well equipped and everything so well organised. Would definitely recommend'
Juila and John
'Amazing. It was everything we thought it would be and more. All communications were good, can't fault a thing. Thank you so very much. We will 100% come again'
Warwick and Cathi
If you would like to book a stay at Puddle Cottage, please contact Anna 07734175291 or e/mail enquiries@puddle-cottage.co.uk.
Puddle Cottage is a 4 star , dog friendly self catering cottage is located in the village of Edith Weston on the South shore of Rutland Water. Rutland Sailing Club, Rutland Water Fishing Lodge and Normanton Church are all within walking distance of the cottage . The cottage has 1 bedroom which can be presented as either one super king sized bed to two full sized single beds. Well behaved dogs are very welcome.