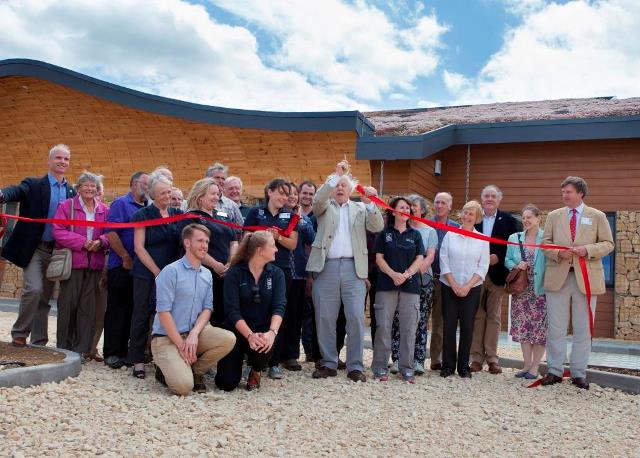 Sir David opens new centre at Rutland Water
Rutland Water was proud to welcome Sir David Attenborough today. Sir David said there was 'something special about the people of Rutland' as he cut the ribbon to open the new £1.1 million volunteer centre.
Here is the article explaining more about the special day from Rutland Water Nature Reserve:
Our new Volunteer Training Centre has been a long time in the making, so we couldn't have been prouder to be joined by patron of the Leicestershire and Rutland Wildlife Trust, Sir David Attenborough, who marked the opening of the centre with a ribbon cutting. The Rutland Water Nature Reserve Team were joined by around 200 guests, including over 100 volunteers and all those who helped us make the Volunteer Training Centre possible.

Today we may have opened the doors of our new building, but this in itself has opened many doors upon which opportunity knocks. Thanks to the new facilities, the Leicestershire and Rutland Wildlife Trust will be able to connect more people with our local wildlife and wild places through education and training programmes in wildlife and heritage skills. We now have everything we need to be able to include people of all abilities and backgrounds, and ensure that their experience is one to remember.

Volunteers have been at the very heart of the Volunteer Training Centre's vision, and it seemed only right that they were the stars standing alongside Sir David Attenborough throughout the day's events. Sir David was welcomed by Chairman of the Leicestershire and Rutland Wildlife Trust Andrew Moffat, and volunteers Phil Hurford and Anya Wicikowski whose speeches reflected the positive difference volunteering can make to people's lives, whether it be by providing the experience you need to pursue a career in conservation or by trying out something new in the early days of retirement.

Sir David was joined by volunteers as he cut the ribbon, which was followed by a huge cheer and round of applause from the crowd.

During the course of the day volunteers demonstrated some of the skills training the reserve hopes to offer more of in the future. Members of our Wild Skills team, a group for 13-18 year olds, worked on a wildflower garden they had designed and planted up from seeds they grew themselves thanks to expert advice from volunteer wildlife gardeners Betty Hunt and Jo Porter. Chris Park, who has been involved at Rutland Water for over 30 years, shared his bird identification skills with guests; pointing out the variety of wildfowl and waders residing on Lagoon 4. Our bird ringers demonstrated the importance of monitoring bird populations through ringing, Rutland Osprey Project volunteer Chris Ditchburn talked of his involvement with wildlife education both in the UK and West Africa, and our habitat team were dry-stone walling, building swift boxes and undertaking chainsaw maintenance.

Today was truly a day to remember and we can't thank enough the people who have been behind bringing the centre to a reality.
Article taken from http://www.rutlandwater.org.uk/wildlives/a-day-to-remember
If you are looking to visit Rutland Water Nature Reserve, then why not consider a stay at Puddle Cottage? The 4 star cottage is on the South shore of Rutland Water in the charming village of Edith Weston, close to Rutland Water Nature Reserve. We would be delighted to welcome you.