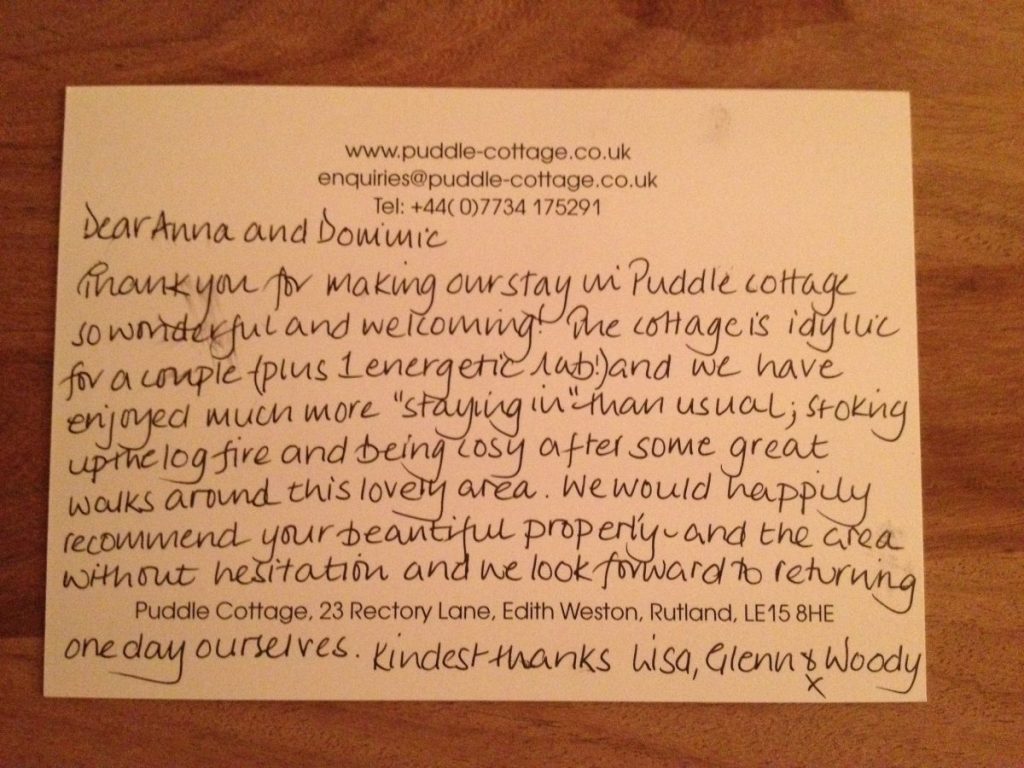 Guest feedback January 2015
Here is the guest feedback for January 2015:
A lovely area. Nice walks, big sky. The village was quiet and peaceful. Great for looking at the birds and waterfowl, including Egyptian Geese.  Interesting Church in the village and lovely old houses. New Italian restaurant in Oakham 'San Giorgio' is authentic, has good food, friendly staff and good value plus inexpensive. Wheatsheaf in village serves good food.

Puddle Cottage is quaint and quirky. It has been developed with good taste – modernising yet keeping the best of its history. Good bathroom, comfortable lounge with a great fireplace. TV was of good quality. Kitchen was equipped and a delight. Lovely instant hot water. Lovely place to watch the local birds.
Ursula and John.
The area is beautiful and we enjoyed some walks by Rutland Water. Puddle Cottage is cosy and well equipped. We enjoyed the benefit of the log fire.
Allan and Charmaine.
Absolutely brilliant. Very cosy. Well looked after and presented. Very comfortable bed. Plenty of space. Lots of information about the cottage and local area – much appreciated. Local area very interesting. Lots of good walking. I would have no hesitation in recommending Puddle to friends and hope to come back again.
Janet.
The cottage was a great treat for us – normally things do not exactly measure up with the brief – this does and more. Location perfect for the Sailing Club. Thank you.
Shaun and Charlie.
Totally enthralled by the cottage – really quaint – just what we hoped for. Fantastic reception just added to the whole 'Puddle Cottage' experience. Garden also brilliant for our dog. All in all – perfect! Thank you.
Shirley and David.
If you would like to book a stay at Puddle Cottage, please contact Anna 07734175291 or e/mail enquiries@puddle-cottage.co.uk.
Puddle Cottage is a 4 star , dog friendly self catering cottage is located in the village of Edith Weston on the South shore of Rutland Water. Rutland Sailing Club, Rutland Water Fishing Lodge and Normanton Church are all within walking distance of the cottage . The cottage has 1 bedroom which can be presented as either one super king sized bed to two full sized single beds. Well behaved dogs are very welcome.