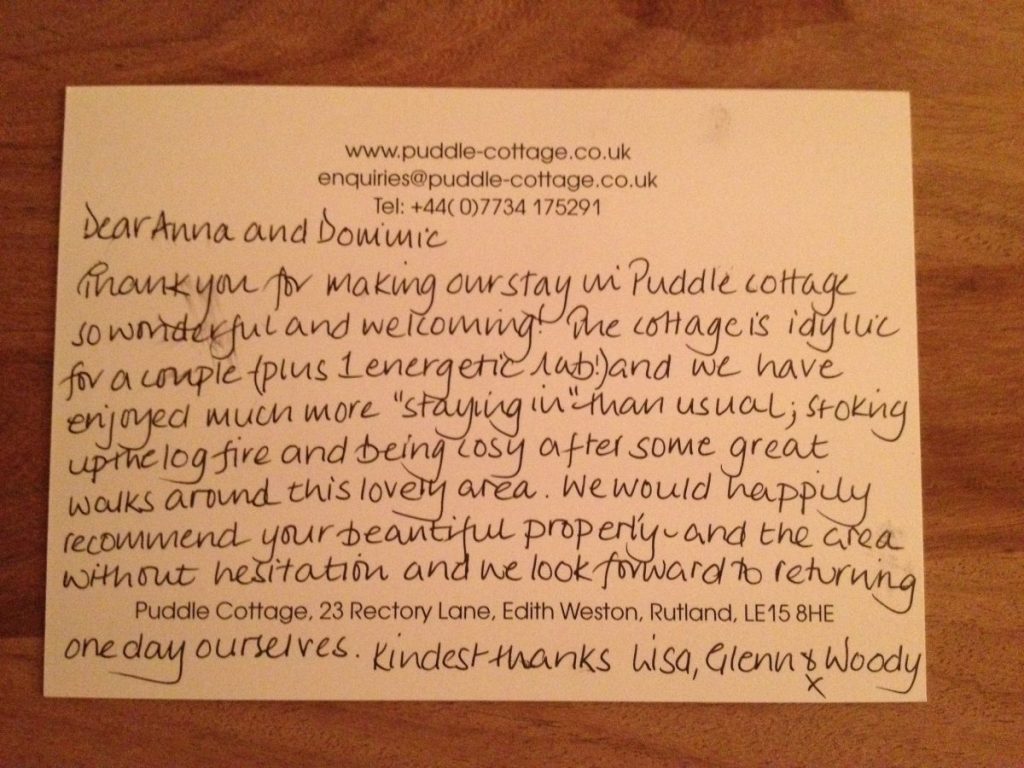 Guest feedback September and October 2014
Here is the guest feedback for October 2014:
Fantastic area, brilliant fishing and walking. Locals very friendly. We love Puddle Cottage. It's everything you need and more for a very relaxing holiday.
Sandra, Tony and Ben
Beautiful cottage in beautiful surroundings. Extremely well equipped with modern appliances. Very comprehensive for everything. All info can be found in the intro pack. Very well presented and spotless. Will come here again.
Bob, Kate and Jade
Just as good as ever – always worth coming back to.
Myfanwy and Mike
Cosy, well stocked, great location, clean, fantastic fire for winter months. Lots of small details that make it an absolutely wonderful stay.
Jo Randall
Puddle Cottage is the perfect country cottage. We stay in a number of cottages in Britain and abroad. This is one of the very best. Everything works & the cupboards are full of useful things.
David & family, Jersey
Really lovely & character filled cottage, which was an absolute pleasure to stay in. We would certainly recommend it to others!
Jim & Helen Colleran, Halifax
There is plenty to see and do in the local area. Our guests this month have enjoyed exploring the market towns of Stamford, Uppingham and Oakham which are all within 8 miles of Puddle Cottage. A trip to the award winning Hambleton Bakery at Exton was also a highlight http://www.hambletonbakery.co.uk as was Sunday lunch at the Horse and Jockey at the nearby village of Manton  http://www.horseandjockeyrutland.co.uk.
If you would like to book a stay at Puddle Cottage, please contact Anna 07734175291 or e/mail enquiries@puddle-cottage.co.uk.
Puddle Cottage is a 4 star , dog friendly self catering cottage is located in the village of Edith Weston on the South shore of Rutland Water. Rutland Sailing Club, Rutland Water Fishing Lodge and Normanton Church are all within walking distance of the cottage . The cottage has 1 bedroom which can be presented as either one super king sized bed to two full sized single beds. Well behaved dogs are very welcome.