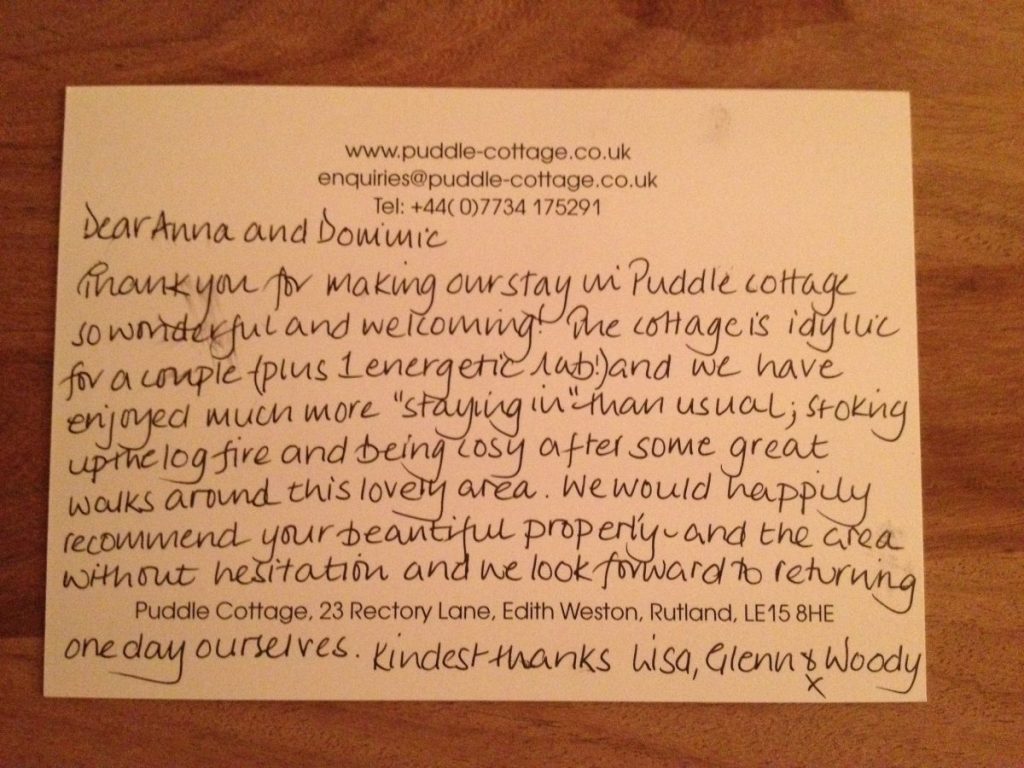 Guest Feedback April and May 2014
Here is the guest feedback for April  and May 2014:
Excellent accommodation. Spotless. Well equipped. Cosy. Everything catered for. We hope to be back.

We loved Puddle Cottage, and will definitely be booking here again. The personal touches were brilliant. Thank you once again for all your help in this beautiful cottage.

Cathrine, Wellia and Lesley

Lovely area. Beautiful walks and villages. Cottage very well equipped, Has everything you need. Would come again.
Gary and Lisa Simpson.
Loved the cottage. Numerous dog walks taking in the lovely location and village. Thank you so much. Are you selling?!
Cheryl and Danny Richardson and Ted the Spaniel
We liked everything about the cottage. Also, thank you so much for our welcome. You will see us again.
Dave and Angie, Dover
We came to see the Ospreys and have seen so much more. The cycling and walking has been brilliant, all within easy reach. Can't fault the cottage, it contained everything we needed. And the location has been ideal. We will be back.
Jo & Stuart Allport
We loved everything about Puddle Cottage. We very much hope to be able to come back again.
Linda & John, Jive and Samba
If you would like to book a stay at Puddle Cottage, please contact Anna 07734175291 or e/mail enquiries@puddle-cottage.co.uk. Puddle Cottage is a 4 star , dog friendly self catering cottage is located in the village of Edith Weston on the South shore of Rutland Water. Rutland Sailing Club, Rutland Water Fishing Lodge and Normanton Church are all within walking distance of the cottage . The cottage has 1 bedroom which can be presented as either one super king sized bed to two full sized single beds. The market towns of Oakham, Stamford and Uppingham are also within 8 miles of the cottage making it the perfect base to explore the local area. Well behaved dogs are very welcome.