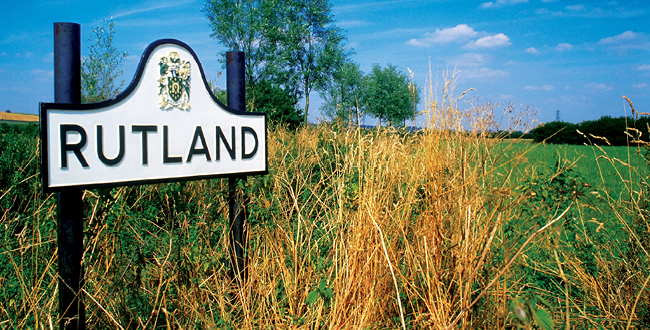 Happy Rutland Day!
Happy Rutland Day !
Morning everyone and Happy Rutland Day! A chance to celebrate all that Rutland has to offer from fantastic scenery, historic market towns,  gorgeous local produce and fantastic independent shops. Even though Rutland is the smallest county in England, the motto 'Multum in Parvo' or 'Much in Little' really does apply.
Rutland has had several accolades already this year:
In February 2013, The Guardian wrote
It's just the place for beer, beef, bread and birds

What's going for it? The time comes in a person's life when one starts to appreciate a place like Oakham. This is not somewhere to waste on twentysomethings or teenagers, who know little of the delights that lie within a historic market town. Boarders at its illustrious private school must be just that: bored. But when you hit 42… Oh, boy! Watch out, Oakham! Just hold us back! This town is manna for the middle-aged, for that time when experience has taught you that life doesn't get better than an artisan-made sourdough loaf from Hambleton Bakery. Who needs ketamine?

Oakham is full of the little pleasures of life. A nice pint, perhaps, from the Grainstore Brewery? A walk in the undemanding hills of its hinterland to convince yourself you're doing exercise (well, you know, bad lower back and all that). A farmers' market, naturally. A nice collection of historic architecture and antiques shops on which your connoisseur's eye can fall. A chat to select just the right rib of beef with a choice of three – three! – butchers. I know, your cup overrunneth. But to cap it all, are you a twitcher, sir/madam? Then behold Rutland Water, whose annual Birdfair festival was once described by this fair paper as the "birdwatcher's Glastonbury".

Taken from http://www.guardian.co.uk/money/2013/feb/22/lets-move-to-oakham-rutland
The Sunday Times, published on 17th March 2013, listed Oakham  in the top 100 places to live. According to the Sunday Times:
In the mini county of Rutland, Oakham is the largest town, though that isn't saying much. It sits next to Rutland Water, one of the largest manmade lakes in Europe – a weekend playground for sailing, kayaking, fishing, wildlife-watching, walking or cycling around the 25-mile perimeter. Everyone ends up at the Finch's Arms, in Hambleton, a gastropub with great views.The town itself has a lively market twice a week, independent shops in Mill Street and the High Street, several good pubs and banstand concerts in the summer. Oakham public school is on the edge of the town, and there's an independent school in Uppingham, but state schools in Rutland are highly rated.Why we love it:  Good houses, super schools and friendly people.
Earlier in the year, Hambleton Bakery won the award of 'Britain's best bakery' and is well worth a visit.
If you would like to visit the fantastic area of Rutland, why not stay at Puddle Cottage? The 4 star self catering cottage is located in one of the most sought after villages in Rutland, Edith Weston, on the South shore of Rutland Water. From Puddle Cottage, the market towns of Oakham, Uppingham and Stamford are within easy reach (less than 8 miles from Puddle Cottage) and Rutland Water is just a short walk from the cottage. The cottage has been recently refurbished and includes modern features such as a large flat screen TV with Freeview, a dishwasher and WIFI which is available for guests to use free of charge. However the cottage has maintained its original charm with features such as exposed beams and stonework and a real log fire.  The 4 star self catering cottage has 1 bedroom which can sleep 2 people in either a super king sized bed or two full size single beds. Well behaved dogs are very welcome.
If you would like to stay, please contact Anna on 07734175291 or e/mail Anna at enquiries@puddle-cottage.co.uk. We would be delighted to welcome you to this fantastic area.