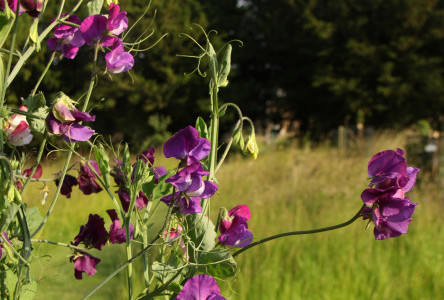 Sweet Pea Week at Easton Walled Gardens
It's not long until Sweet Pea Week at Easton Walled Gardens which takes place from 30th June until 7th July 2013.
Visitors are invited to Easton Walled Gardens to see over 60 varieties of sweet peas in full flower. There are over 60 type of heritage, modern, scented, striped, flake and bicolour sweet peas in the gardens.You can even pick your own bunch to take home. During Sweet Pea Week, Easton Walled Gardens are open daily from 11-4pm. Admission is £6.50 for adults and £2.50 for children (5-16) and parking is free. Easton Walled Gardens is not far from Puddle Cottage which is located just off the A1, 7 miles South of Grantham. More information can be found on their website http://www.eastonwalledgardens.co.uk/whats-on/
If you love gardens, a stay in Rutland is a must. As well as the popular Easton Walled Gardens, the famous Barnsdale Gardens is near to Puddle Cottage which attracts visitors all year round.
If you are visiting the area, why not stay at  Puddle Cottage? Puddle Cottage is a 4 star self catering cottage located in the charming village of Edith Weston, and just a short walk to the South shore of Rutland Water. The cottage is within 8 miles away from the historic market towns of Oakham , Stamford and Uppingham which makes it the perfect base to explore the area. The cottage has been recently refurbished and comfortably sleeps 2 people and well behaved dogs are also very welcome. More details on the cottage can be found here. Should you wish to book a stay, please contact Anna at enquiries@puddle-cottage.co.uk. We would be delighted to welcome you to the area.