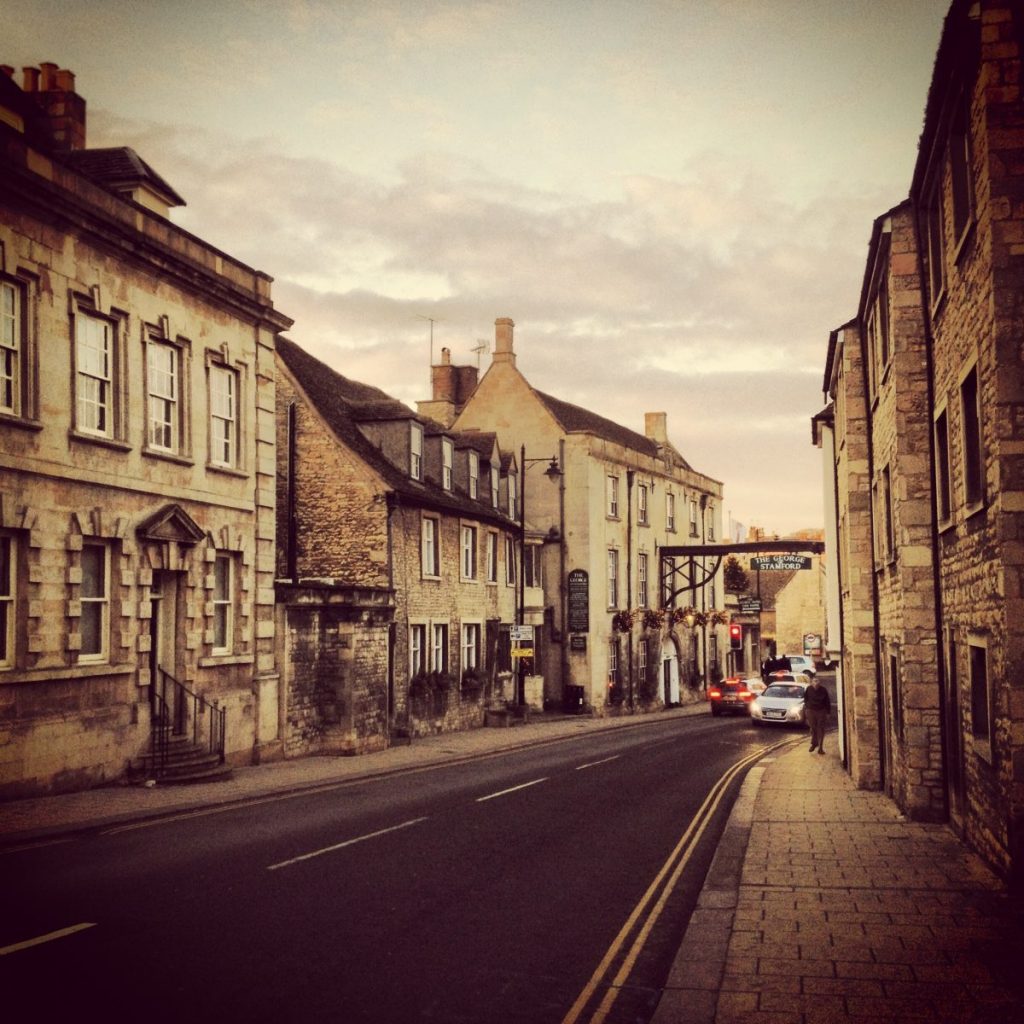 No porkies: Stamford is No 1
'The charming, snob-free Lincolnshire town has been named Britain's best place to live'…
…according to the Sunday Times published today. Here is the full article taken from the Sunday Times, 17th March 2013 by Matt Rudd:
The inn sign — attached to the former gallows — still stretches across the street as it has done for 250 years, a welcome to weary travellers and a warning to tiresome wrongdoers rolled into one.

Stamford, a market town in Lincolnshire pretty enough to form the backdrop for television costume dramas such as Middlemarch and the 2005 film Pride & Prejudice, is today named by The Sunday Times as the best place to live in Britain.It has been chosen from a list of 101 locations selected for their great houses, excellent schools, transport links, beautiful surroundings and thriving communities.

A happy accident of geography and geology has allowed Stamford to remain the 'finest stone town in England', it's riches drawn from the wool trade and its position as a 'mail coach service station' on the main Great North Road almost halfway between London and York.

Today they will raise a Campari and soda to celebrate in the George hotel, which traces its history back to an Anglo Saxon abbot's hostelry and now stands in the historic heart of the town.

The inn sign was originally built as a deterrent to high-waymen such as Dick Turpin. A painting in the hotel entrance shows Daniel 'Fat Dan' Lambert, a former customer who became a celebrity in Georgian times as the heaviest man in Britain. When they carried him out of the nearby Waggon and Horses, his body weighed almost 53 stone.

Stamford is reminder of the days when Britain was hale and hearty. Last week one of the greatest sights was the butcher selling his pork pies like hot cakes.

A mile south is the magnificent Burghley House, a country pile built for William Cecil, lord high treasurer to Elizabeth I, and grand enough to be a stand-in for the interior of the Pope's summer residence in the Hollywood film of Dan Brown's The Da Vinici Code.

Today's Stamford is also a modern town. With Peterborough nearby – where a train can whisk you to London in 52 minutes – plus good shops, excellent schools and a setting amid lush farmland, it has, according to The Sunday Time's Best Place to Live in Britain guide, 'all the charm of the Cotswolds without the snobs and tourists'.

For the residents of Stamford this unexpected accolade may well be the most exciting thing to happen since the council botched the double yellow lines on the cobbles of St Mary's Place last November, provoking a minor revolt.

At the tourist office, Mary Davies insists we go on a tour of her beloved town to celebrate.

'I grew up thinking everywhere was like this' she tells me, breathless at the pace she has set through the medieval alleys. 'And I have to say I got a huge shock when I found out that it wasn'

It's true: everywhere is not like Stamford. Built with limestone, slate and pork pie fuelled determination, it is a beauty. John Betjeman described it as 'England's most attractive town'.

There were once 14 churches and 100 pubs here. In the age of iPlayer and wine boxes, those statistics have dwindled – the Waggon and Horses survives merely as a statistic along with the Gaping Goose on a website dedicated to the 58 lost pubs of Stamford, but you are still never more than a cobble-wobble from a pint or a prayer book. Or an optician. I've never seen so many in one place.

There is also a Waitrose, of course, and boutiques selling cabinets and wardrobes and bird tables (available in any colour so long as it's duck-egg blue), but McDonald's has still only got as far as the outskirts.

Mercifully Stamford doesn't go in for stringing up strangers these days. 'Oh yes, it's a very friendly town' says Karen Brammer, proprietor of the Stamford Cheese Cellar. At which point a man comes in to ask if he can stick up a notice that the most puissant grand commander 33rd degree will be talking at a freemason evening in the Castle Inn on Saturday. You even get a higher class of pub talk here.

On we go, past the hardware store selling fork handles, saw tips and 'O's' for the garden gate. Then its lunch at the Cosy Club, a pub-restaurant-cafe that does a burger with pesto and chorizo and an egg.

By now, Mary has gone. It's just me and Bugaboo brigade – half farmers' wives, half stockbrokers' wives – six pensioners guzzling pink champagne and a heavily bandages man who might have lost a fight with a combined harvester. And then to the library.

'Congratulations' I whisper to the librarians. 'Stamford is the best place to live in Britain'. 'No it isn't' says one called Vanesssa. 'The parking's a nightmare'. Dissent in the library, then, but not the pub.

Mark Brecknock, the landlord at Melbourn Brothers abandoned the bright lights of London for the cobbles of Stamford. 'It's a cracking place' he says. So he's happier here? 'As happy. We don't quite have the same wide range of cultural delights as the West End.'

'You have the Stamford Gilbert & Sullivan players' I say.

Of course, being named as the best place to live in Britain isn't the only first for Stamford. This is, after all, where the first tomatoes were grown in Britain – in the conservatory of Burghley House – an it can still lay claim to having the country's oldest newspaper: the Stamford Mercury.

Later I see Mary again. She has found a nice house for me to buy, but I have to leave it. I buy a pork pie to take with me. It will soften the blow.
If you are looking to visit 'Britain's best place to visit' why not stay at Puddle Cottage? The 4 star self catering cottage is less than 8 miles from Stamford but also has the advantage of being just a short walk to the South shore of Rutland Water. Located in the charming village of Edith Weston, the location of the cottage means that the other market towns of Oakham and Uppingham are also within 8 miles of the cottage making it the perfect place to explore the area. For more details or to book a stay at Puddle Cottage please contact Anna on enquiries@puddle-cottage.co.uk or call 07734175291. We would be delighted to welcome you to the area.