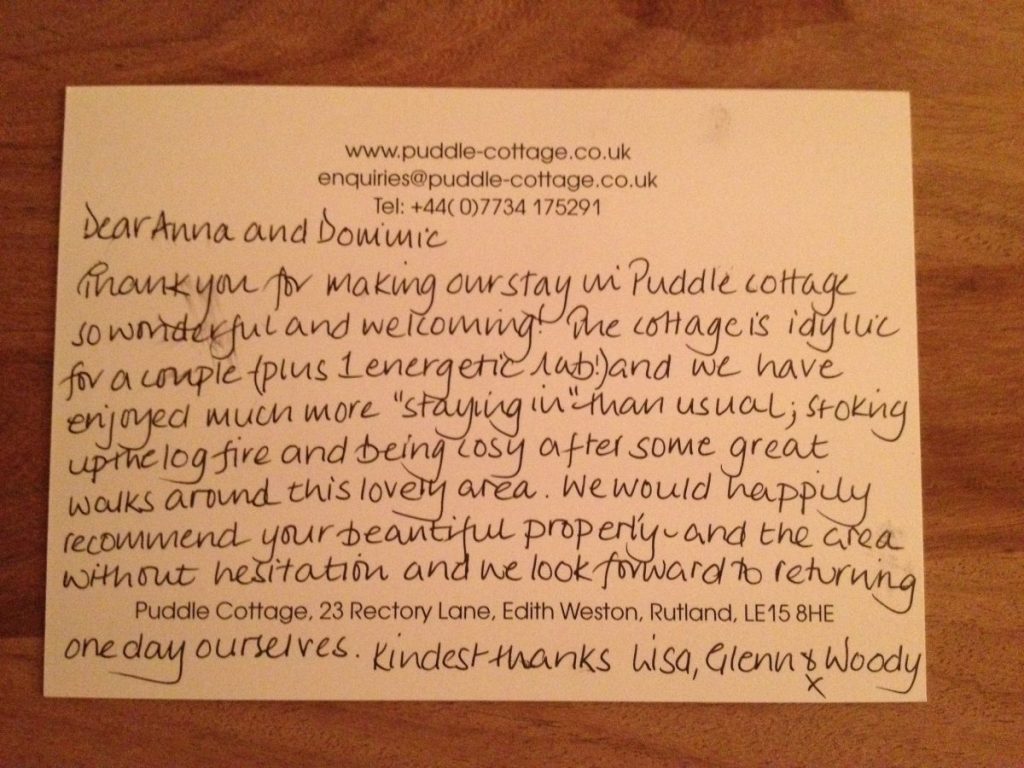 Guest Feedback – February 2013
We have just introduced a questionnaire into the cottage so thought it would be a good chance to share recent feedback. Here is the feedback from February:
We loved the countryside, and pubs that we visited. The locals were friendly and accommodating for our dog. We had dinner at the Kings Arms in Wing which was also very good quality. There is nothing we could suggest to improve the cottage as it was a perfect weekend and the cottage itself was 'ready to live in' and we didn't have to do anything. Looking forward to coming back in the future, thank you for a lovely stay.

R. Hastings, February 2013

Thank you for making our stay in Puddle Cottage so wonderful and welcoming! The cottage is idyllic for a couple (plus 1 energetic lab!) and we have enjoyed much more 'staying in' than usual; stoking up the log fire and being cosy after some great walks around this lovely area. We would happily recommend your beautiful property and the area without hesitation and we look forward to returning one day ourselves.

Lisa, Glenn & Woody, February 2013

An excellent find. Well equipped and warm – the open fire much enjoyed. Fantastic position on Rutland Water. Many thanks for the warm welcome – we had a lovely stay and hopefully will come back at a different time of year.

Myfanwy and Mike Ellard, February 2013
If you would like to stay at Puddle Cottage, please contact Anna on enquiries@puddle-cotatge.co.uk. The 4 star , pet friendly self catering cottage is located in the charming village of Edith Weston on the South shore of Rutland Water. Rutland Sailing Club, Rutland Water Fishing Lodge and Normanton Church are all within walking distance of the cottage.