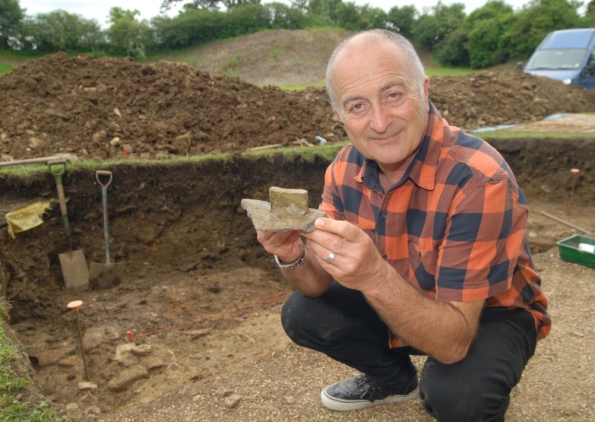 What lies beneath?!
The Time Team spent 3 days digging in the grounds of Oakham Castle in June 2012 and this afternoon, the 1 hour program featuring Oakham Castle will be aired (Channel 4, 4:35pm).
According to the Channel 4 website:
Oakham Castle is the best preserved 12th-century building in Britain, but there's much more to it than meets the eye. The walled area surrounding the castle is full of mysterious lumps and bumps crying out to be investigated. The castle was once home to the Norman knight Walkelin de Ferrers, who fought alongside Richard the Lionheart in the Crusades. Before that, the same site was home to some of our most legendary Saxon kings and queens. Time Team's task is to find out about the many buildings that would once have surrounded the castle, and they're particularly excited about the prospect of finding de Ferrers' long-lost private quarters. Fascinating finds add to the big clues on the ground, but it takes the full three days of twists and turns to determine what Oakham looked like 900 years ago. And to mark the visit, Tony casts a special giant Time Team horseshoe to add to the extraordinary collection of hundreds of shoes that have decorated the castle hall for 500 years.
The archaeological dig is the first to have taken place at Oakham Castle since the 1950's.  If you in the area, then a trip to historical Oakham is a must. The Castle is open on most days (closed on Tuesdays and Sundays) and guided tours of Oakham Castle take place from April until the end of October. More details can be found on the My Rutland Website.
If you are visiting the area and are looking for self-catering accommodation, then why not stay at Puddle Cottage? The  pet friendly 4 star cottage has one bedroom (which can sleep 2 people in either a super king sized bed or two full size single beds) and is located in the charming village of Edith Weston and is walking distance to the South shore of the 'Puddle' including Rutland Sailing Club, Rutland Fishing Lodge and Normanton Church. The historical market towns of Oakham, Stamford and Uppingham are all within 8 miles of the cottage, making it the perfect base to explore the local area. For more details please visit our website www.puddle-cottage.co.uk  or e/mail enquiries@puddle-cottage.co.uk. We would be delighted to welcome you to Rutland.