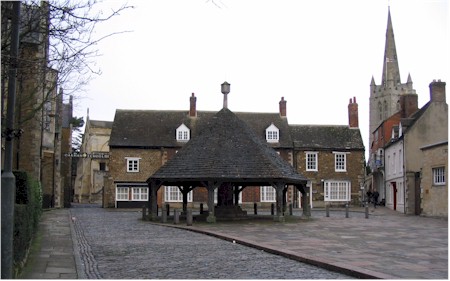 'Excellence in Oakham'
Excellence in Oakham
Here is a lovely article taken from the local magazine, Countryside La Vie (Edition 90) about the market town of Oakham:
Oakham is a very pretty, traditional English market town, in the County Town of Rutland. Bustling with activity and packed with heritage, there's plenty to see in Oakham which makes it ideal for a day trip or short break… Whilst there don't forget to visit nearby Rutland Water or Oakham Castle. The architecture of Oakham School (1584) is also stunning , and a major landmark in the town. Today Oakham is a thriving community that has undergone considerable expansion. It currently has a population of approximately 12,000. It may seen small in stature but doesn't the saying go 'good things come in small packages'? This is certainly true when it comes to the wealth and variety of shops to be found here.

Wandering through the Market Place on a Wednesday or Saturday you will find vendors selling the best local produce, meats, cheeses, breads and eggs. Plus the third Saturday of every month a farmers Market comes to Gaol Street in Oakham. A host of produce direct from the farmer assures quality and less miles for the consumers' conscience.

When it's time to eat in Oakham, the choice is wide and appealing; dining is a stylish experience; from cafes and tea bars to restaurants and pubs – you'll never go hungry of thirsty here and you are guaranteed a warm welcome wherever you visit. For starters check out 'Hambleton Farm Fine Foods' in Gaol Street. This high quality farm shop, butchers, delicatessen and cheesemongers serve their own native breed, naturally reared beef, lamb and pork. A taste buds delight!

Not to be outdone 'Hambletons Bakery' also in Goal Street is brimming with delicious treats from savory to sweet – it's so sophisticated here and the bread is held in such high esteem, it has its own wooden plinths to rest on! To accompany these beautiful provisions do visit 'Oakham Wines' such an excellent collection of wines and spirits found under one roof – with new stock arriving daily you will have no problem choosing the correct accompaniment to your meal. If it's advice you are after don't be afraid to ask the staff who are more than willing to help.

Ambling along Mill Street, you'll find a plethora of amazing shops and boutiques, one such find is 'Oakham Orietntal Rugs' awash with colour and texture and established here for over twenty years, you can guarantee a personal service. Advice on how to care for your rugs is given willingly and with the extensive range on offer you will not go home empty handed – just a little extra for those cosy autumnal nights ahead.

Another gem to discover is 'Furleys' with its roots in the early 1800's, today Furleys of Oakham is a well established and successful family run business offering some of the most exclusive and select home interior shopping in the County. A personal, friendly and unique service is the aim of the exceptional, experienced and creative interior designer Hannah Turcan, Everything for stunning interiors can be found under one roof at their newly refurbished flagship showroom at 7 High Street.

If you are looking for the bespoke and exquisite then 'Heidi Kjeldsen Jewellers' of 5, The Maltings, Mill Street is the place to be, an utterly charming shop with unique jewellery being crafted there since 1998. Heidi specialises in bespoke, handmade commissions for that piece of jewellery you have always desired. She enables your vision to become a reality. It is not all about girls however, hand crafted men's jewellery can also be purchased – maybe for an ideal Christmas present?

Make your shopping experience unique and individual without the hassle of the High Street. I urge you to check out the antique and fine art shops, eateries and boutiques.

Your return visit will be guaranteed.

Countryside La Vie (Edition 90) October 2012

If you are visiting Oakham, and are looking for self catering accommodation in Rutland then Puddle Cottage could be for you. The 4 star cottage is just 8 miles from Oakham, and just a short walk to the banks of the South shore of Rutland Water. For more details, please contact Anna on 07734175291 or e/mail enquiries@puddle-cottage.co.uk. We would be delighted to welcome you.