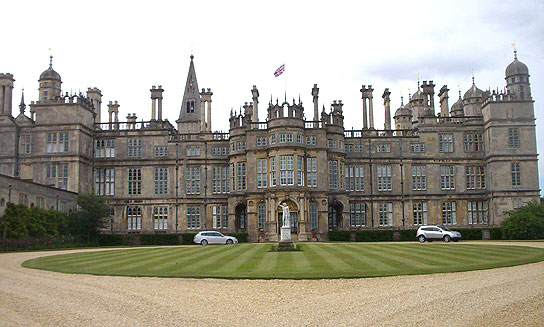 Reasons we love Stamford
Reasons we love Stamford
Rutland Pride is a lovely magazine and covers all the key events and places to visit in the area. You will find the latest copies in the dresser in the living room at the cottage, along with maps, leaflets and guides on the area and plenty of entertainment too. If you are looking to visit Stamford, then Puddle Cottage is only 8 miles away and also has the benefit of being just a short walk to Rutland Water. The 4 star cottage also holds the 'Walkers Welcome' and 'Cyclists Welcome' awards. The cottage can sleep 2 people in either a super king sized bed or two full size single beds, and has all the modern facilities you would expect such as a large flat screen TV with DVD player and Freeview, a dishwasher, tumble dryer and also WIFI which is provided to guests free of charge. However the cottage still retains its original charm such as an open fire, exposed beams and feature stonework from when it was built in the 1800's.
In its November edition, the Rutland Pride Magazine  lists its 'Reasons we love Stamford' which I thought would be worth sharing:
Stamford is one of the country's finest and best preserved towns and was, in fat, the first town in the country to be designated a conservation area.

It's no surprise then, that the town's handsome appearance has attracted a keen population of around 23,000 who love living in such a pretty place. That population has, in turn, maintained healthy property prices – especially given the town's viability  for commuters – and created a nice standard of living in a town that's affluent, attractive, and thriving.

The town's appeal is its appearance and its upmarket shops and restaurants, but its appeal goes beyond mere beauty. This is our five points manifesto stating why we think the town's a winner!

1. It's a bit predictable to begin talking about Stamford by talking about Burghley House, but there are few – if any – towns in the region that can claim to have such a vast stately home and estate playing such a significant role in the town as Burghley does.  The Horse Trials, held each September, attracts 150,000 spectators and result in £20,000,000 being spent in the town each time its held. It's easy to take the Horse Trials for granted, but its a major sporting event and adds greatly to the town's kudos. Previous custodian Victoria Leatham and current incumbents Miranda & Orlando Rock have greatly added to Burghley's appeal and are responsible for the warm, welcoming feel of the estate to locals. The Sculpture Gardens and Gardens of Surprise are a brilliant attraction in the summer, and in addition to welcoming the Queen for a picnic during her Jubilee year, this year has also seen Olympic themed events and exhibitions , as well as the house's flower festival which saw Burghley's state rooms transformed into a series of beautiful floral displays. This month the house's Crafts for Christmas Event from 29th November will prove a great place for seasonal shopping with leather goods, hand-made cosmetics, fashions and much more.

2. Eating out has always been a large part of Stamford's appeal. Being on the former Roman thoroughfare between London and York, now the A1, it's little surprise that it was an ideal location for coaching inns and remains so today. The George at Stamford is situated on the grounds of an original coaching inn created 1,000 years ago, but its appeal as one of the town's most renowned restaurants is stronger than ever – the food is superb and the service is excellent! Elsewhere, local chef Thierry Daugeron has opened his new dining room in the cellars of the Corn Exchange. Another recommendation is that of the town's Cosy Club, located in the former delivery office on the town's Horseshoe Lane. The venue is a mix of small dining rooms and art deco spaces, but its menus and robust with tapas, brunch and sharing platters. With a wealth of local fashion and homes retailers as well as plenty of gift shops, its easy to work up an appetite when Christmas shopping in the town!

3. Stamford has 14 Churches currently operating and a couple of churches which have been deconsecrated. Most notable is All Saint's Church in the Town's All Saint's Place. One of the town's oldest churches is recorded in the Doomsday Book and originally stood next to Stamford's Norman Castle, which was partly demolished in the 1400s to just a few stones remaining. The last of these were cleared in 1977 to facilitate the building of new homes. Some of All Saint's masonry dates back to the 12th century, but for the most part, All Saints' was rebuilt in the 140s, with funding by William and John Brown, in the Perpendicular Gothic style. Later additions include box pews and vestry by the town's Edwaed browning with Victorian stained glass that ensures today. All Saints' is one of the town's two towers with surviving bells (the other being St Martins' and its tower was climbed by a few reckless youths who caused the town to consternation in the early 1800s! St. Martins was founded in the 12th century, rebuild in the 15th century. It houses the tomb of William Cecil, Lord Burghley and wax extended in 1865 with the addition of the North Chapel. An elms house service still takes place in the Chantry chapel of Brown's Hospital, which was founded in 1475 by the same William Brown who funded All Saints' restoration. It was converted into alms houses in 1963 and also made an appearance in Middlemarch.

4. There's lots to do in Stamford. The towns's independent shops and restaurants create a lively place to spend day or night. However, with a packed programme of events at Stamford Arts Centre and the town's Corn Exchange, there's lots to enjoy …

5. Stamford has plenty of famous characters. Keen cinema go-ers will have noticed Stamford making a cameo in their favourite films. Most notably, Burghley House was the setting for the Jane Austen's Rosings in the 2004 adaptation of Price and Prejudice. It is also featured alongside Belvoir Castle in theDa Vinci Code and in Elizabeth: The Golden Age. Stamford itself was used to film the 1994 adaptation of George Eliot's Middlemarch. Author of Morse Colin Dexter was schooled in Stamford at what is now part of Stamford Endowed Schools, as was TV presenter Sarah Cawood and Sir Mike Jackson – formed CGS for the British Armed Forces. Of Stamford's most famous residents, the memory of goal keeper Daniel Lambert endures as one of the largest men of his age. The 50 stone man died in the town in 1809. His clothes remain on display at Newarke Houses Mueseum in Leicester to this day, with the only remaining Stamford legacy a display in The George Hotel.

Rutland Pride, November 2012
If you are looking to visit Stamford and wish to stay at Puddle Cottage, we would love to welcome you. Please contact Anna on 07734175291 or e/mail enquiries@puddle-cottage.co.uk for more details.