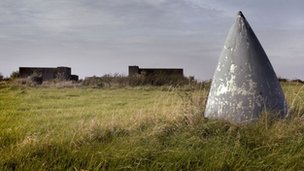 Rutland makes headline news again!
We've got quite used to Rutland making the headline news this year. Firstly, when Rutland was named the best place in mainland UK to live, and then Oakham was named the 6th best town in the UK to live in several weeks ago. Today, Rutland is in the headline news again as the Thor missile site at the former RAF North Luffenham, Rutland, has been given a Grade II* listing!
English Heritage made this annoucement this morning:
The remains of two Cold War nuclear missile sites have been given listed status in recognition of their national architectural and historic significance by the Department of Culture, Media and Sport (DCMS), acting on the advice of English Heritage. The announcement comes on the 50th anniversary of the Cuban Missile Crisis (16-28 October, 1962), the closest the world came to nuclear confrontation. During the Cuban crisis, the now listed missile sites in Rutland and Northamptonshire were put on alert and their Thor nuclear missiles prepared for a possible launch on the Soviet Union.

The Thor missile site at the former RAF North Luffenham (today, St George's Barracks) in Rutland is listed at Grade II* while the Thor missile site at the former RAF Harrington (today, mainly farmland) in Northamptonshire is listed at Grade II.  Today, many of England's buildings and structures associated with the Cold War period have been demolished, abandoned or neglected. The listing of the Rutland and Northamptonshire missile sites provides them with an additional layer of protection and is part of an on-going English Heritage project to ensure that the best Cold War architecture is safe-guarded.
If you are looking for self catering accommodation in Rutland, then Puddle Cottage could be for you. Why choose Puddle Cottage? The cottage is just a short walk to the banks of Rutland Water, including Rutland Sailing School and Rutland Water Fishing Lodge as well as being within 8 miles of the market towns of Oakham, Stamford and Uppingham making it an ideal base to explore the area.The cottage, which has been recently refurbished and awarded a 4 star rating by Quality in Tourism, includes facilities such as a dishwasher, tumble dryer, flat screen TV with DVD player and Freeview, and WIFI which is available to guests free of charge. The cottage has one bedroom which can be presented as either a super king sized bed or two full size single beds.  If you are looking for a holiday cottage in Rutland which is close to Rutland Water, then Puddle Cottage could be for you. For more details please e/mail enquiries@puddle-cottage.co.uk. We would be delighted to welcome you.