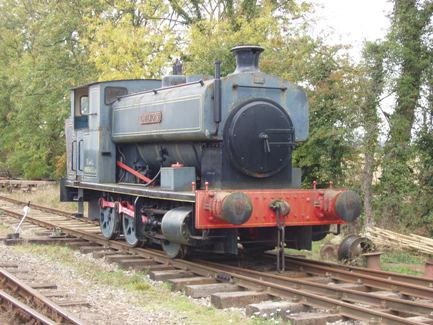 Choo Choo! Prepare to be Rocked by Rail!
Rocks by Rail – The Living Ironstone Musum in Rutland is re-opening soon
When visiting the area you may want to pay a visit to the Rutland Railway Museum which is based just outside the village of Cottesmore on the North side of Rutland Water. Rutland Railway Museum (under its new name Rocks by Rail – the Living Ironstone Museum) will re-open on an operational basis on 16th September 2012 following a period of renovation – the largest redevelopment phase since its original acquisition in 1979.
The Museum is dedicated to telling the story of railways in industry and is set in 19 acres  of reclaimed quarry, railway tracks and nature trails. There is plenty to do there – such as taking a train trip, driving a classic loco, touring the workshop and visiting the ironstore exhibition. The Museum will run operation trains every third Sunday in the month, although hopefully this will increase. The Museum is run by volunteers and admission is £5 for adults and £2.50 for children. Well behaved dogs are also welcome. More details can be found on their website http://www.rocks-by-rail.org
If you are coming to the area to visit Rutland Railway Museum (or Rocks by Rail – the Living Ironstone Museum as it is now called), then why not stay at Puddle Cottage? Puddle Cottage is a 4 star self-catering cottage located in the popular village of Edith Weston and is just a short walking distance to the shores of Rutland Water, including Rutland Fishing Lodge and Rutland Sailing Club. The cottage has one large bedroom that can either be presented as two full size single beds or a super king sized bed. Within 8 miles of Puddle Cottage also lie the market towns of Oakham, Stamford and Uppingham making the cottage the ideal place to explore all that Rutland has to offer. For more details please contact Anna on 07734175291 or enquiries@puddle-cottage.co.uk.