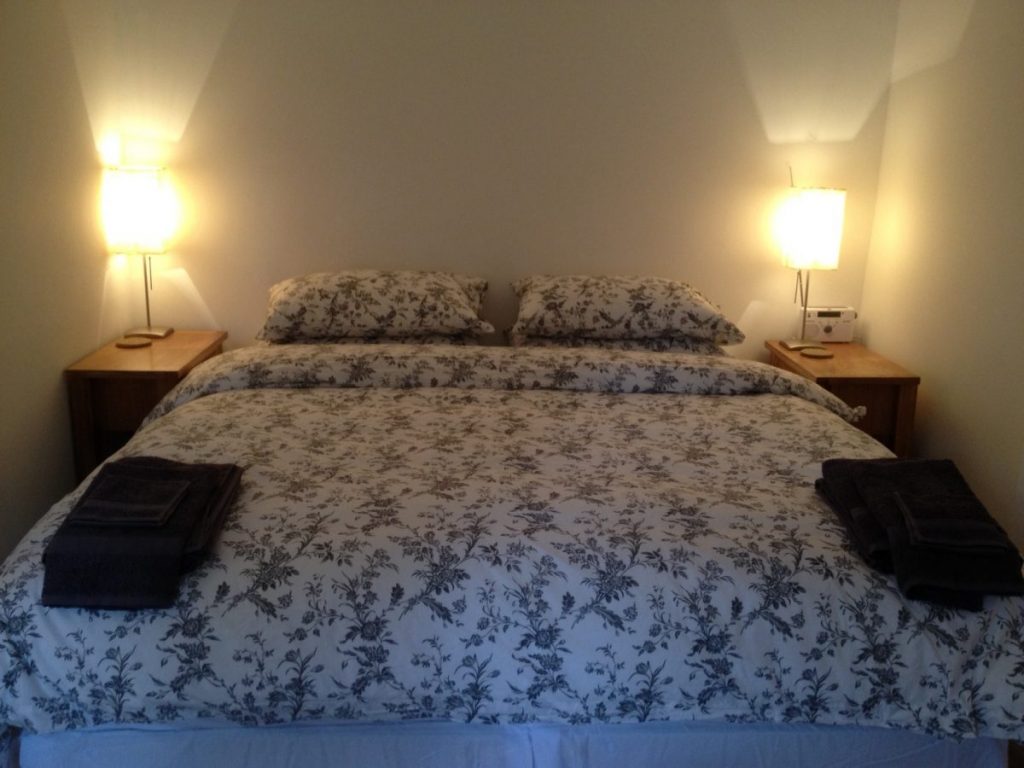 The refurbishment is nearly complete!
After months of hard work, Puddle Cottage has been refurbished and the super king sized bed has been delivered – through the bedroom window!
After several months of very hard work, the renovation work on Puddle Cottage is nearly complete and will be open for business tomorrow having been awarded a 4 star rating by the tourist board today! I am conscious that there are not many photos of the cottage on the website as we have been waiting until the renovation work has all been completed, but in the meantime I wanted to share this picture of the bedroom which is now all complete.
It took 4 men a good few hours one morning last week to get the bed through the windows of the cottage, so it was a real relief when it was all done.  And even more of a relief to find that no windows were broken in the process! The end result is hopefully worth it – a super king sized bed. The super king size bed is a zip together bed which means that the bedroom can also be presented as two full sized single beds if required. Whatever combination you require, we are sure you will have a good night's sleep.
Puddle Cottage is a traditional, character stone cottage built in the 1800's in the heart of Edith Weston, a popular Rutland village on the south shore of Rutland Water. The cottage is just a short walking distance to the shores of Rutland Water, Rutland sailing club and walking distance to Rutland Water Fishing Lodge. Within 8 miles of Puddle Cottage also lie the market towns of Oakham, Stamford and Uppingham, making the cottage the ideal place to explore all that Rutland has to offer.
Puddle Cottage offers the traditional charm of a cottage, maintaining its original stone walls, exposed timberwork and open fire. Yet it offers all the modern facilities you would expect such as a recently renovated bathroom, gas central heating, refurbished breakfast kitchen with new appliances and a granite sink, and a large flat screen TV, DVD player and Freeview as well as WIFI. We also welcome well behaved dogs.
If you are looking for self catering accomodation in Rutland, close to Rutland Water please contact Anna on enquiries@puddle-cottage.co.uk or call Anna on 07734175291. We look forward to welcoming you to Puddle Cottage.