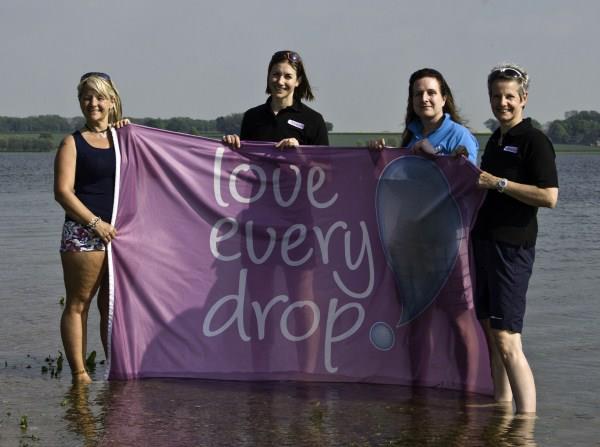 Fancy a spuddle in the puddle??!!
You may recall me saying that the triathlons were, by my knowledge, the only time you were allowed to 'spuddle in the puddle' i.e. swim in Rutland Water.
It looks like things are about to change because this weekend marks the inaugural Rutland Water open swim. If you are an experienced swimmer, then you are invited to join the event taking place this Saturday starting at 9am.  This is a trial event to test the course before the launch of the full open water calendar is released. The organisers Inspire2Tri are working with Anglian Water, and  have stated that the course is 'a well marked 500m course in the beautiful Whitwell creek'. There will also be on water canoes for support should you need them.
For more information on the event, please visit the Inspire2Tri website http://inspire2tri.com/programmes/open-water-swimming-2/open-water-swimming-events-in-rutland-water/inaugural-club-swim. Advanced booking for this open water swimming event on Rutland Water is essential as only 100 places are available, and the session costs £6.50 which includes your parking fee at Whitwell carpark. The swim starts between 9am and 9.15am on Saturday 14th July and you can swim as long as you wish for during the session (which ends at 11am, subject to conditions and water temperatures).
Although this is a trial, it is exciting to think that Rutland Water will soon be an open water swimming venue. I'm sure that everyone who participates in open water swimming at Rutland Water will agree that it is a fantastic course with spectacular views. I have no doubt that these events on Rutland Water will become a popular destination for Triathletes wishing to gain open water experience, in particular those who are planning on taking part in the Dambuster Triathlon on Rutland Water.  If you are visiting Rutland Water to gain open water swimming experience or to train for a Triathlon such as the famous Dambuster triathlon, why not consider Puddle Cottage as a base? The character cottage is located on the shores of Rutland Water in Edith Weston, and is just a short walk to the banks of the south shore of Rutland Water. The cottage has one large bedroom which can be presented with one king size bed or 2 full sized single beds. There is also a sofa bed in the living room which can accommodate 2 additional people if required. For more information please contact Anna on  07734175291 or e/mail enquiries@puddle-cottage.co.uk.