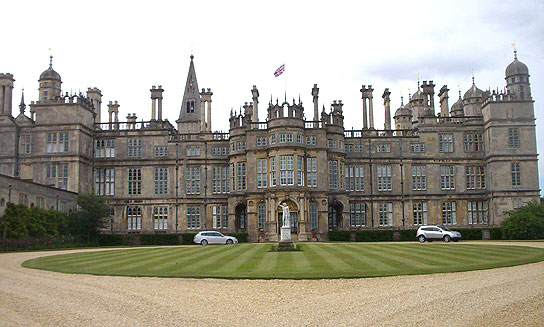 Royal Burghley
As part of the Jubilee celebrations, the Queen visited Burghley House today.  Unfortunately due to illness during the Jubilee weekend, the Duke of Edinburgh was not able to attend.
The Queen arrived at Burghley House by Helicopter at about 12:30pm from Nottingham. According to the Stamford Mercury 'About 8,000 people from voluntary groups, school children and charity workers from four counties packed into the grounds of the stately home to join the celebrations, eating their own picnics whilst listening to live music on the big stage'.
The afternoon included a display by the Red Arrows and Spitfires. The Queen also took part in a ceremonial tree planting, planting a lime tree close to the one Queen Victoria planted on her visit to Burghley House in 1844. The Queen then departed Burghley House for Stamford where thousands of people lined the streets. For those who keep a track on such things, the Queen wore mint!
Whilst this was a private event, there are public events throughout the year at Burghley House to celebrate the Jubilee. These include the annual Battle Proms on 7th July and the Annual Flower Festival at Burghley from 6th -14th October, both of which will have a royal theme. For more information on events at Burghley House please visit their website http://www.burghley.co.uk/events. If you are visiting the area for an event at Burley House and are looking for accommodation nearby, please contact Anna on 07734175291 or e/mail enquiries@puddle-cottage.co.uk. The cottage is located on the south shore of Rutland Water and is just a short walk from the banks of the reservoir, as well as being less than 10 miles from Burghley House and 8 miles from the market towns of Oakham, Uppingham and Stamford. We do have availability for Burghely Horse Trials, so if you are looking for accomodation for the Burghley Horse Trials at the end of August please contact us.