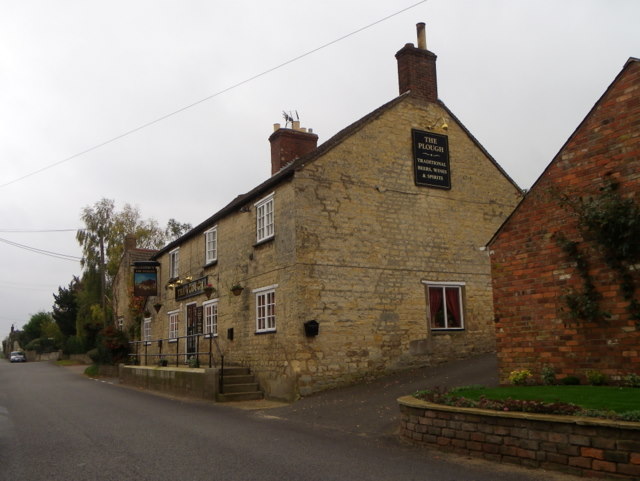 Pie Night at the Plough, Greetham
The Plough at Greetham was named Rutland CAMRA pub of the year for 2012, and we thought it was well worth an overdue visit. We have always heard fantastic reviews about the pub. To take the words from the pub itself 'The Plough is very much a village local… a pub that does food, not a restaurant with a bar'. That sounded exactly what we needed for a relaxed Sunday evening.
We visited when Rutland was under a decent covering of snow and temperatures had been plummeting and it was great to be in a cosy pub with the fire roaring. It seemed the perfect time to try 'Pie Night' which takes place every Sunday and Monday evening.  The general rule is to pick a pie, then choose from a selection of potato dishes and then a vegetable dish all for £8.50. Fantastic value for money. Ian, the landlord told us that the pies change weekly, although the prize winning steak, stout & stilton pie does tend to be on most weeks. Dominic chose the prize winning pie whilst I went for a local pheasant pie. Both arrived steaming hot, mine with a fantastic lid of perfectly risen puff pastry.  I had chosen sides of creamy mash and braised red cabbage which was just perfect.
If pie night doesn't take your fancy, then the main menu runs alongside this all week which offers seasonal, some home grown, produce and local game and fish. Although we haven't been yet, the Plough also offers a full lunch menu too. As well as hot dishes, they also offer Plough's Ploughman's Platters and baguettes by the foot going as long as 2 foot. Surely the longest lunch in Rutland!
There is a great selection of cask ales too. And to top it off they are dog friendly. Dogs are welcome in the bar and the garden at all times, although not in the dining room. The full menu is available in the bar and garden, so you won't miss out.
Food is served every day and the menu changes daily. So if you are staying at Puddle Cottage, and want a relaxed evening or lazy lunch in a local pub with the chance to sample local ingredients then why not visit the Plough at Greetham. They would recommend booking in advance on 01572 813613 or for more information their website is http://www.greethamplough.co.uk.
UPDATE SEPTEMBER 2012: The Plough at Greetham has been taken over and I don't believe Pie Night is taking place anymore.